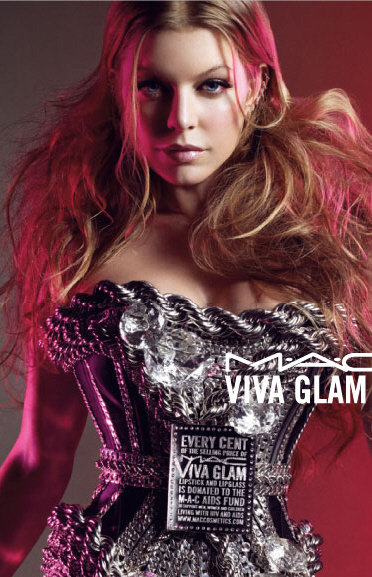 Fergie signs up to front the MAC Viva Glam VI campaign All proceeds from the sale of the new US$14 lipglass gloss – which went on sale in March – will be directed to the initiative, which in turn will fund global organisations addressing the AIDS crisis in young people. An estimated US$5 million is expected to be raised, and the initiative is part of an ongoing effort by the MAC VIVA GLAM campaigns and the MAC AIDS Fund to fight HIV/AIDS around the globe. Fergie joins current VIVA GLAM spokespeople, Eve and Dita von Teese. "I have followed the VIVA GLAM campaigns since they began with RuPaul, so I am honoured to be able to continue on the tradition," noted Fergie.
"I want to empower young people to know that responsibility is glamorous. There needs to be more AIDS education and prevention programmes available to youth as they are at the most risk for HIV/AIDS, and I hope that my new VIVA GLAM Lipglass will help to raise funds and awareness for this important issue." "Fergie is a role model to young people around the world," commented John Demsey, Chairman of the MAC AIDS Fund and Global President of MAC Cosmetics. "Her passion and personal commitment to empowering youth make her the perfect spokesperson for the VIVA GLAM VI campaign and Global Youth Prevention Initiative. "She is the first spokesperson in the history of the Fund to have a limited-edition lipglass that will raise money for one specific demographic. Young people are increasingly hard hit by the AIDS epidemic. Half of all new infections in the US are among people aged 25 years and younger." The new MAC VIVA GLAM VI campaign featuring Fergie was created by MAC Senior Vice President/Creative Director James Gager, and shot by photographer Michael Thompson. MORE ABOUT THE MAC AIDS FUND The MAC AIDS Fund (MAF), the heart and soul of MAC Cosmetics, was established in 1994 to support men, women and children affected by HIV/AIDS globally.
Fergie Goes Viva Glam For Mac
MAF is a pioneer in HIV/AIDS funding, providing financial support to organisations working with underserved regions and populations. Official tracklist for mac. As the largest corporate non-pharmaceutical giver in the arena, MAF strives to raise awareness of four key issues in the fight against HIV/AIDS: prevention, the link between poverty and HIV/AIDS, access to care, and adherence to medications and treatments. To date MAF has raised over US$100 million exclusively through the sale of MAC's VIVA GLAM lipstick and lipglass, donating 100% of the sale price to fight HIV/AIDS. comments Your post will appear – once approved – in on our home page MORE STORIES ON MAC.